Introduction
For the past two years, work has progressed at pace on the Headrow Gateway scheme. The £20m+ scheme will strengthen the provision for sustainable transport modes in the city centre and the wider Leeds district. It will also improve the city centre as a place to work, live, shop and entertain. The scheme will transform the area into a world-class gateway for bus users, pedestrians and cycle users.
In 2016, the Department for Transport granted Leeds City Council and the West Yorkshire Combined Authority £173.5m to spend on public transport improvements in a bid to upgrade the bus network and provide space for safer walking and cycling routes.
Connecting Leeds underpins the Leeds Inclusive Growth Strategy to create a more prosperous, liveable, healthy Leeds. This includes city centre gateways, upgraded pedestrian environments and redesigned bus stop infrastructure. The scheme will support fast-paced economic growth across the Leeds City Region by providing an efficient, sustainable, quality public transport system.
The preliminary design started in late 2018 with the design partner, WSP and was handed over to Capita and the delivery partner, John Sisk & Son in early 2019 for detailed design. The scheme is now complete and has seen 15,950m2 of new wider pavements laid, 4,697 tonnes of waste reused or recycled as well as the installation of new, safer cycle lanes and bus gates which facilitate bus priority. The design, quality and functionality of materials is in keeping with the enhanced city centre palette and will be maintained for many years.
The Headrow
The Headrow is one of the most important crossroads in the city centre, with over 100 buses passing through every hour. The consultations highlighted a number of issues affecting transport and the environment in this area. Buses were usually delayed by traffic and other buses on this section.
The ambitious plans aim to give people more appealing alternatives to the car by making bus services quicker and more reliable and ensuring that journeys on foot and bike are more convenient, attractive and safer. The vision was to have more reliable and shorter bus journey times, easier connections between bus and rail services, safer, greener and more and less vehicle dominated areas working towards the Climate Emergency agenda and the 2030 carbon zero targets that have been set by the Council.
The final scheme will transform the area into a world-class gateway to Leeds City Centre for bus users, pedestrians and cycle users. It now features high quality public realm, new trees and increased footway widths which will improve the townscape and enhance the setting of heritage assets, such as the Town Hall and Victoria Gardens. This will make the centre more welcoming and attractive for visitors, residents and employees.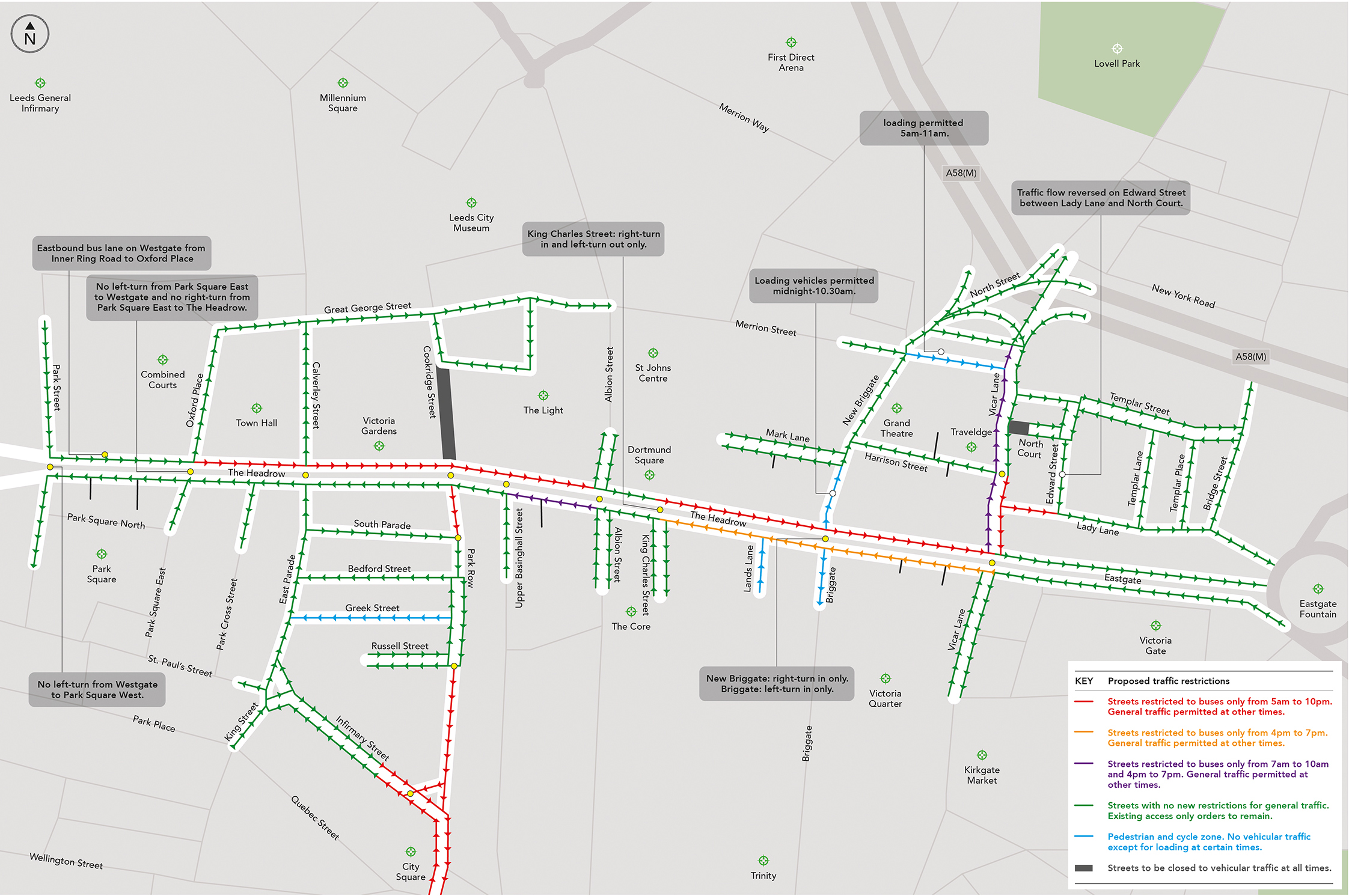 The new proposed layout on The Headrow. To download the map, click here.
Vicar Lane
Vicar Lane has returned to a two way route for buses, for the first time in 50 years. Re-routing has reduced running distances for the majority of the bus services and removes a key pinch point on the Headrow. The scheme has improved cycle safety by providing a protected cycle route and enhanced pedestrian connectivity by creating new crossings and reducing crossing distances.
Cookridge Street
Last year, Cookridge Street was permanently closed to all motorised traffic and the area has been converted into a new public space that offers seating, greenery and is set to become a hub for outdoor events and activities. There is also a new, segregated cycle path which links from the train station.
Infirmary Street and Park Row
In addition to the £20million+ invested in the Headrow Gateway scheme, a further £8million was granted for improvements to Park Row and Infirmary Street.
The essential improvement scheme has seen Park Row converted into a one-way street for most of its length making it easier for buses to use and easing congestion. The pavements have been significantly widened and a protected cycleway has been created which will link the City Station to The Headrow and Cookridge Street. The road will be modernised and more greenery will be planted to improve public realm.
Over on Infirmary Street, the road has been converted into a two-way operation designed for bus and cycle priority access (with provision for local access for businesses and residents). Bus stops will be upgraded and bus-only restrictions will improve journey times and air quality.
Further improvements on the scheme include:
improving bus journey times by making Park Row one-way, southbound, with bus lay-bys
new stretches of bus lane to reduce delays on Park Row, Infirmary Street and City Square
a short section of Park Row – between Russell Street and Bedford Street – remaining two-way for access-only to Russell Street
providing wider pavements on Park Row and Infirmary Street, especially on the east side of Park Row and the north side of Infirmary Street
southbound bus stops on Park Row being consolidated at the southern end of the street
a two-way protected cycle path between Bedford Street and the Headrow and a protected southbound cycle track between City Square and Russell Street
making Infirmary Street a two-way route, so that bus connections are maintained following future City Square proposals (currently under development) – it will remove through traffic from City Square and extend public space
bus stops in lay-bys on both sides of Infirmary Street and removal of the central bus stop island
a pedestrian crossing across the middle of Infirmary Street
Additional materials
Headrow route map - proposed route layout
Click here for Headrow route map PDF.