After nearly two years on site, the Corn Exchange scheme is expected to finish by May 2022. Highways improvements outside the Corn Exchange include dedicated bus gates for more reliable bus services in the centre, new cycle lanes, wider footways, pedestrianisation of Call Lane and straight across pedestrian crossings. The space directly outside the Corn Exchange benefits from raised planters and accessible seating offering a new public area for the city centre.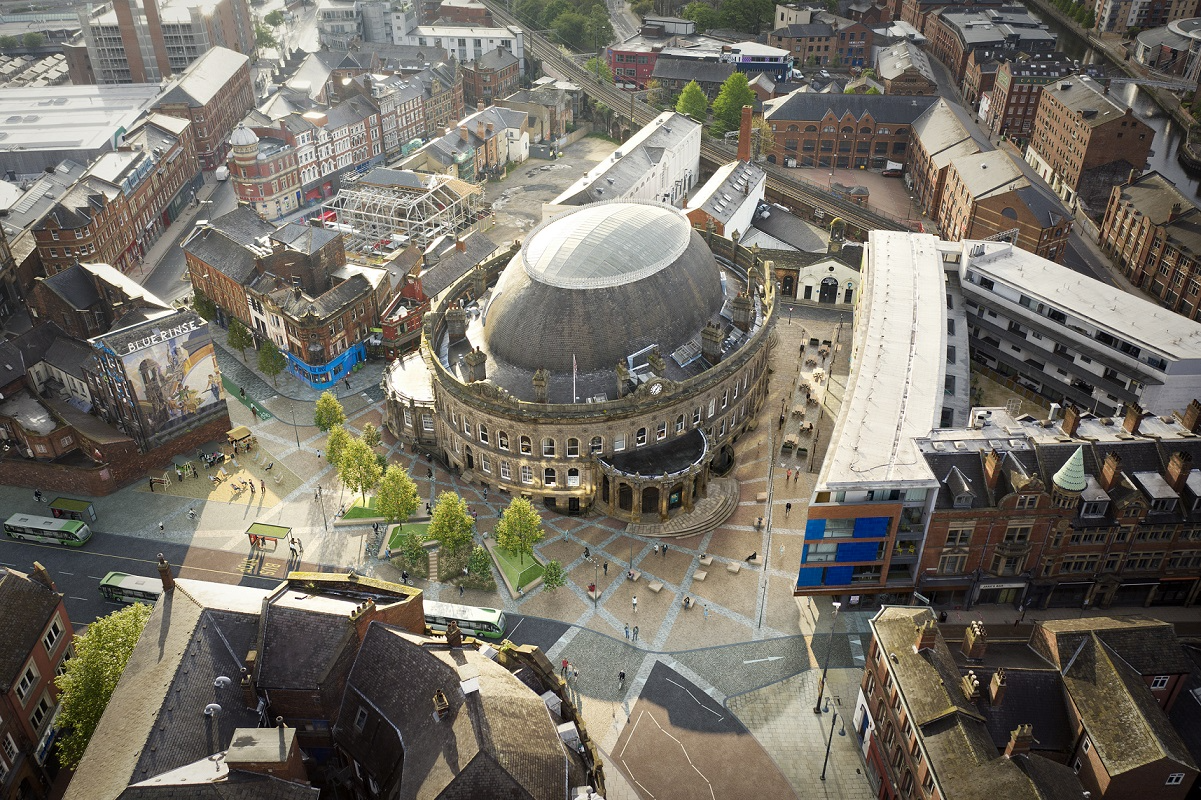 ----
Introduction
In October 2019, we consulted on plans to transform the area around the Corn Exchange. With over 100 buses passing through the area every hour, it's a key gateway for people visiting or working in the city. It's also home to one of the city's most iconic buildings and is a lively vibrant hub for nightlife. The area no longer meets the transport and economic ambitions of the city – it is usually congested, particularly in rush hour and buses are regularly delayed.
In 2016, Connecting Leeds was granted an unprecedented £270 million to invest in the transport network and after two rounds of consultation on this area, 2,200 responses and listening to your feedback, we're ready to update you on our scheme design.
Most people responding to our previous consultation felt positively about our proposals and that they would make the area a more desirable location for everyone. Respondents felt the proposals would bring benefits for pedestrians, public realm, air quality and public safety.
We received some valuable feedback from residents and business-owners and incorporated some of this into our plans which you can view below.
Work started on site in August 2020 and the entire scheme is set to be complete by May 2022. John Sisk & Son are the contractors working on site.
Main elements of the scheme include:
Widening footpaths
Bus and pedestrian priority measures
Upgrading bus stops and moving some existing ones
Changing some road layouts
Planting new trees
Provision for safer, protected cycle ways
Improved public realm areas
Read on to see plans and descriptions section by section.
Corn Exchange public realm improvements
In May 2021, work started to transform the space outside the city's iconic Corn Exchange building. The work, which will run alongside and complement the Connecting Leeds highways work, will see planted trees lining the streets to create a welcoming green space and shelter for wildlife, safer routes through for cyclists, and crossing points designed to assist pedestrians to navigate through the space safely.
Leeds City Council will also enter into a lease with the Corn Exchange and its owners Rushbond, in a bid to create a new Pavilion building alongside the new outdoor seating area in the public space outside Corn Exchange capable of hosting an array of outdoor events and activities along with 'al-fresco' dining. The building will be built by Rushbond and is subject to further planning approvals. The public space in the City Centre will provide a major new amenity for the people of Leeds, a place to meet, greet and experience, with the backdrop of one of the City's most celebrated buildings.
To support this work, the upper section of Call Lane (outside Blue Rinse) will be closed to buses and private hire vehicles.
Boar Lane and Lower Briggate
The central reservation will be removed from Duncan Street to allow for wider pavements and a new wider crossing will be in place outside McDonald's offering pedestrians and cyclists priority.
There will be a new protected two-way cycleway in place on Lower Briggate to encourage active travel into the city, and more greenery in the area to improve public realm.
To meet the demands of the bus network, there is a requirement to provide:
2 x bus stops on the west side of Lower Briggate (north-bound)
2 x bus stops on the south side of Duncan Street
1 x bus stop on the north side of Duncan Street
Plan of Boar Lane and Lower Briggate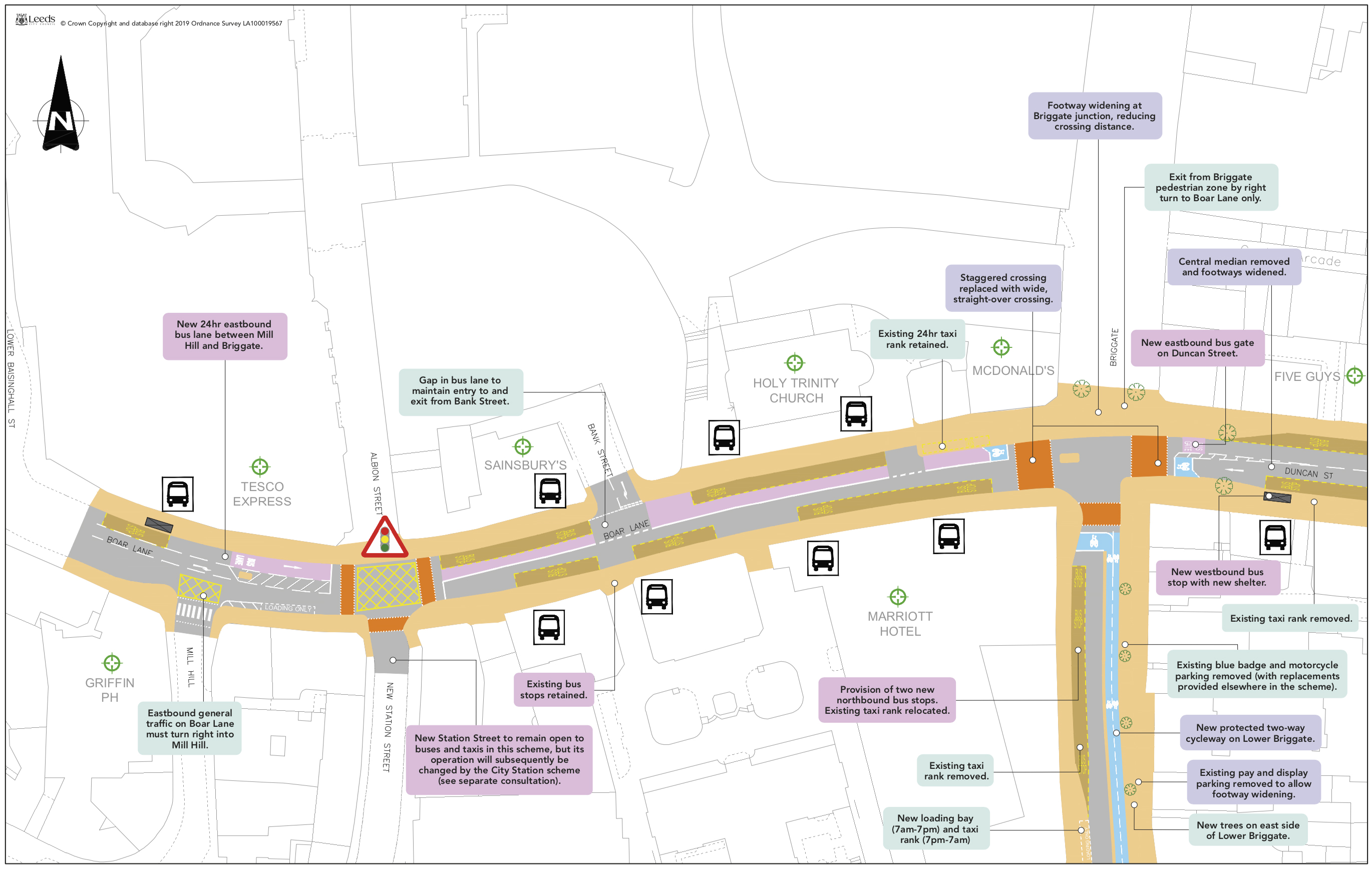 Corn Exchange and Upper Call Lane
This section is at the very heart the scheme. It is one of the busiest areas in West Yorkshire for bus movements with buses serving the north and south side of the city.
Bus passengers are currently served by the very unpopular Perspex tunnel, in front of the Corn exchange; this will be removed and replaced with accessible high-quality bus stops with real time and audio information.
There is also a proposal to close part of Call Lane (immediately in front of the Corn Exchange building).
We will do the following to facilitate bus demand:
- 2 x bus stops on New Market Street both north-bound and south-bound, and two bus tops on Vicar Lane.
- Crown Street will run north to south rather than south to north.