Below are two maps to help motorists navigate around Leeds city centre and help blue badge holders find a parking space whilst major road improvements are carried out and completed.
One map shows which roads in the city centre have restricted access and at what times of the day. Where there is no private vehicle access or access between certain times, these areas will be enforceable by a charge for not following the new restriction rules. Any charge collected will be reinvested into making improvements to the Leeds transport network.
The other map shows where Blue Badge holders can park, with 131 spaces allocated across 26 different locations in the city centre. How to access the spaces and the direction of travel to them is also shown on the map in blue, and the exit routes are shown in yellow.
These maps are to help people find their way around the city centre during ongoing major improvements. Future works are planned for the city centre which will change the restrictions around the city centre. Once construction is complete, we will share updated maps.
This is part of a 173.5million Leeds Public Transport Investment Programme that aims to dramatically improve public transport, cycling and walking infrastructure across Leeds. It has been shaped following consultation with the public - in 2016, we started The Transport Conversation, which was essentially an opportunity for residents of Leeds to discuss what transport changes they'd like to see.
Over 8,000 of residents responded with feedback that helped shape our Connecting Leeds strategy . Since then we have had three further consultations with you on what changes you would like to see in your city centre:
The city centre consultation in 2018
Overall, respondents asked for Leeds to have:
Priority bus, pedestrians, and cycle infrastructure above access for private vehicles
Access retained to city centre public car parks and delivery routes for businesses
Easy access for blue badge parking bays
Designated bus gates to increase the reliability of the bus service
Enforceable and meaningful access restrictions for private vehicle users
Retention of access to important Leeds landmarks such as; the Leeds Arena, the universities, the Leeds General Infirmary, and Leeds Playhouse.
City centre traffic restriction routes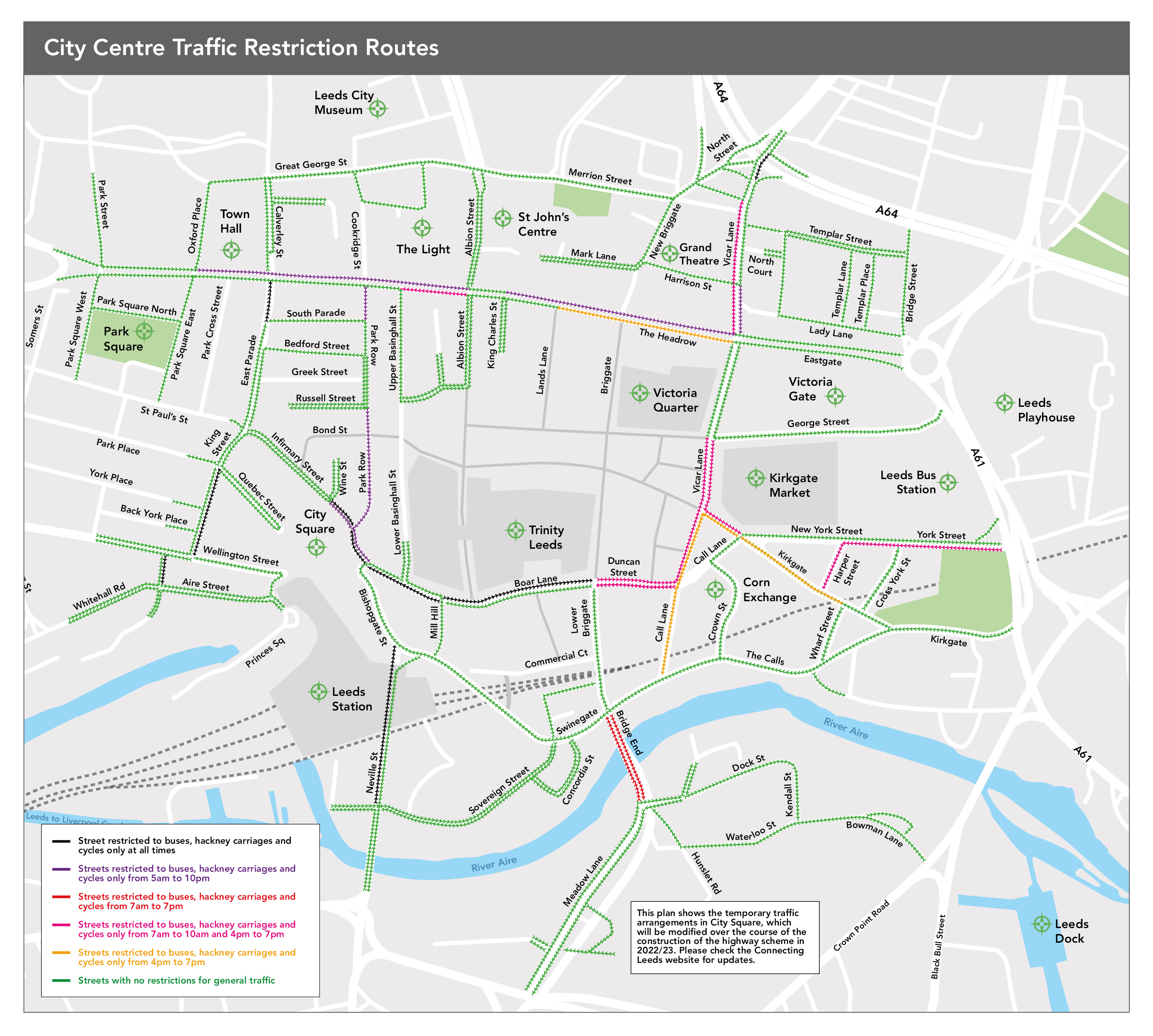 Blue badge parking access and exit routes
Below is a list of 'What 3 Words' locations to help blue badge holders find parking spaces in the city centre.